English
The history of Kanegawa-no-Mori
金川の森について(かねがわのもりについて)
Kanegawa-no-Mori is a public park built along Kanegawa river goes through the East side of Kofu Basin, Yamanashi prefecture. The park is called "Mori (forest)", which is originally preserved woods designated in conservation laws as the disaster measures of river flood. These woods are semi-natural environments managed by local people as coppices for over a hundred years. The woods consisted of several oaks, hornbeams and pine trees, which were used to be cut down every 20-30 years as fuels until gas supply began in Japan after the World War II. When the large improvement works of the river was executed, the woods lost their major system functions and were abandoned for a while. But in 1970's, the increasing demand for holiday resorts saved 36ha of woods from development and they were revived as a park consisting of 6 woods in 1996.





The features of 6 woods
6つの森について(むっつのもりについて)
No matter what season, you can enjoy some parts of natural beauty. Walking along a creek, pottering under trees or picnic on sunny lawn, there is something to suit everyone. Just step in nature and find your own favorite.
A creek from a spring flows through the wood, reach to the large pond nearby visitor center. Feeling balmy breeze, you can walk along the creek. Dongri is acorns in Japanese. You can find some kinds of oak trees in there.

Visitor information center
BBQ place (Reservation is requested by the previous day. Please contact visitor center for details)
Cycle station (Bicycle rental station)
Playground equipments
Picnic fields

In spring season, you can enjoy various types of Sakura flowers (cherry blossoms) blooming from the top of the observation deck.

Observation deck
Picnic fields

You can spend a relaxing time in spacious lawn. Birds calling and the music of the stream make your mind and body calm.

This area is best for nature observation. Early morning of summer season, you might encounter Japanese Beatles on the stems of oak trees.

In middle of June, the breeding season of firefly starts. You can observe fireflies luminescence following sunset at the "Hotaruike pond(ほたる池)" Because emitting terms of fireflies fluctuates between one to two weeks every year, we recommend that you to contact visitor center and get detailed information before visit.

Firefly pond
Tree canopy observation decks
Playground equipments

There are two Target-bird-golf courses in this wood. Target-bird-golf is a unique sport designed by a Japanese golf fun.

You can see some of large trigonal wooden frameworks named "Seigyu" at "Chisui hiroba (治水広場)" . The "Seiyu(聖牛) is Japanese traditional apparatus for improving the riverbed environment which was designed by Takeda Shingen about 450 years ago.

Cycle station (Bicycle rental station)
Playground equipments
Picnic fields

There is a dog friendly field in the wood. Inside the field, you can let your dog play freely without leashes.





Visitor information center
管理事務所(かんりじむしょ)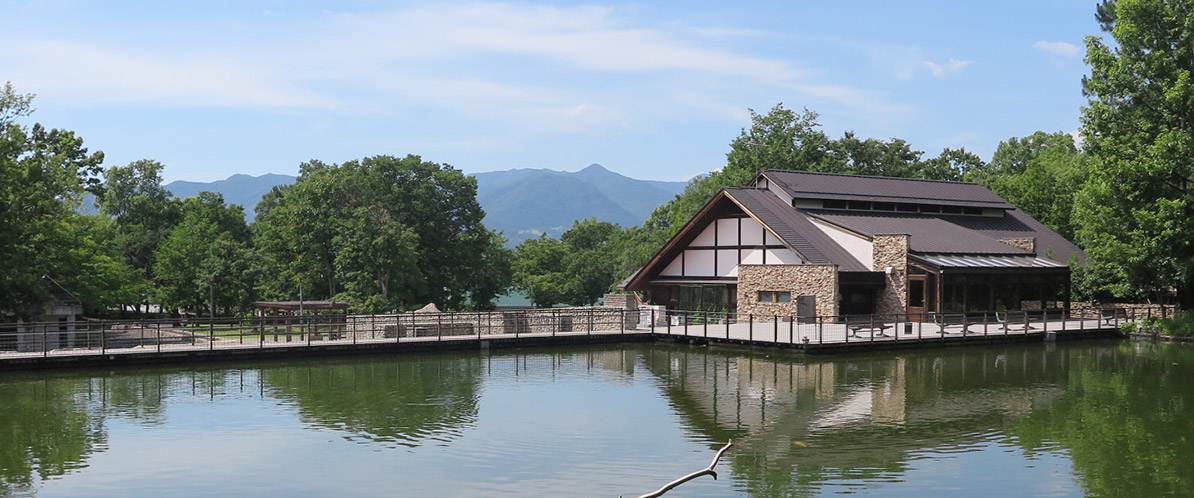 Located in Dongrinomori wood.
Opening hours
April – October 9:00am – 6:00pm
November – March 9:00am -5:00pm
Days closed
We have closed days from December – March. Please note following days.
Monday
The day after Japanese national holidays (open on Saturdays and Sundays)
31th December – 1st January.





Transportation
アクセス(あくせす)
The nearest train station is JR Chuo Line Isawa-Onsen Station(中央線石和温泉駅).

About 15 minutes by taxi from JR Chuo Line Isawa-Onsen Station to Kanegawanomori Park visitor center.

From Tokyo

JR Chuo Line (Kaiji Limited Express)

About 1.5hours from from Shinjuku station to Isawa-Onsen station

Chuo Express Bus (Shinjuku ⇔ Kofu)

About 1.5hours from Shinjuku Expressway Bus Terminal (バスタ新宿) to Chuo Expressway Kai-Ichinomiya(中央道甲斐一宮)

About 22minutes walk from Chuo Expressway Kai-Ichinomiya to Kanegawanomori Park visitor center.

* We recommend visitors from Tokyo this route.

Chuo Expressway

About 3minutes from 「Ichinomiya Misaka IC」 of Chuo Expressway.

*Free car parking





Bicycle rental
レンタサイクル(れんたさいくる)
You can rent bicycles by the hour at the cycle stations in Dongrinomori and Sports-nomori.
Opening hours
April – October 9:00am – 5:00pm
December – March 9:00am -4:00pm
*Closed on the same days with visitor center.
*Please return your bicycles by closing time of visitor center.
Price
Adult Bike

Adult Bike with baby Seat

Mountain Bike

¥100/1 Hour

¥300/4 Hours

Child's Bike

¥100/1 Hour

¥300/4 Hours

Hybrid Bike

¥250/1 Hour
attention
Please buy required tickets from the ticket vending machine at the front of the cycling station first.
Ex. If you want to rent 2 hours, buy two of \100 tickets
You may rent bicycles exceeded the time. In that case, please pay excess charge when you return bikes to the staff.





BBQ place booking and rules
Barbecuing or Grilling is not allowed in Kanegawanomori Park, except in designated area of Dongurinomori wood.
You must book BBQ sites by 4:00pm of the previous day.
⇒For the detailed information or booking, please contact visitor by email.Or fill out the booking form and Fax to visitor center. FAX 0553-39-9821
Fee 1,000/site
The capacity of a site is 6 persons. Please book required sites.
EXP. 8persons need 2 BBQ sites.
We have 5 BBQ sites.
The booking is first come first serve based.
Opened fire is not allowed, please use BBQ grill.
There are no kitchen facilities in the BBQ area.
Please dress all foodstuffs at your home in advance.